With 320 days of sunshine each year, Panama City Beach in Florida welcomes thousands of tourists to enjoy its white sand beaches. There are so many great places to eat and things to do in this popular beach city that it can be hard to choose.
That's why we came up with our own list of the 5 best restaurants and things to do while vacationing in Panama City Beach.
Our Picks: Restaurants and Things To Do in PCB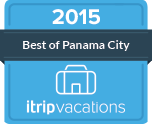 Here are our picks for the 5 Best Things to Do and Restaurants in Panama City Beach to help to help guide you on your next vacation to this FL travel destination.
Best of Panama City Beach Restaurants
Liza's Kitchen
Dat Cajun Place
Finns Island Style Grub
Montego Bay
Saltwater Grill
5 Best Things To Do in Panama City Beach
Dive Locker
Bay Point Golf and Tennis
Hombre Golf
Dolphin and Snorkel Tours
Water Planet
Other Restaurants & Things to Do In Panama City Beach
Check out more vacation tips and fun activities on the blog.